About Randy Butler - Boat Captain of The Rebel
About Randy Butler - Boat Captain of The Rebel
If you're looking for one of the ABSOLUTE BEST offshore fishing captains, look no further!
Captain Randy is an expert Virginia fishing guide who is knowledgeable in targeting most all of the fish species that habitat the waters of the Virginia and North Carolina coasts.
He knows how to catch white marlins, blue marlins, sail fish, sword fish, cobias, tunas, mahi, whaoo, mackrel, amberjack, grouper, sea bass, tile fish, rose fish, barrel fish or almost any other fish that swims in the Atlantic.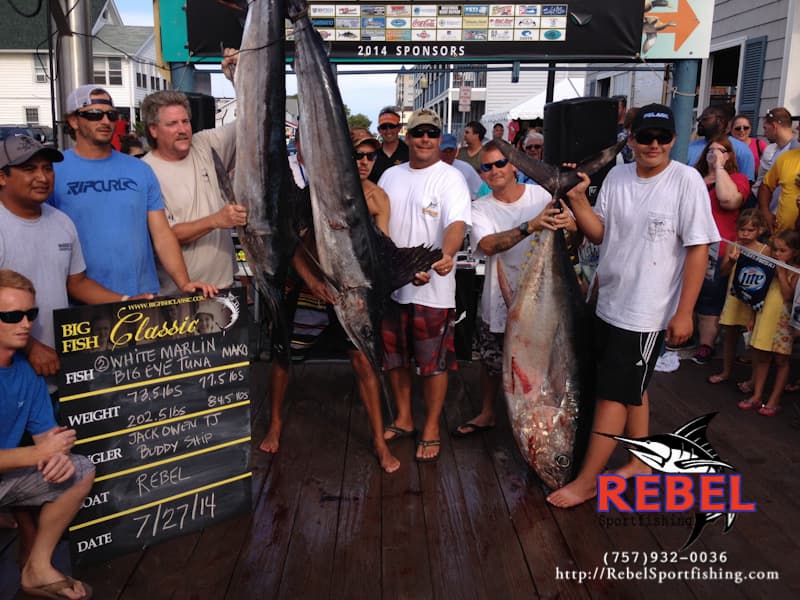 Captain Randy has more than 35 years of fishing experience under his belt. He's the winner of the 2007 White Marlin Open and in 2013 he caught a personal record best 50 white marlins during one single fishing trip! Yes, he really caught 50 MARLINS IN ONE FISHING TRIP!
He's a United States Coast Guard licensed and insured Virginia charter boat Captain.
He caters to the individual needs of each of his customers. He knows what it takes to ensure that the boat, the tackle and the bait are all working in perfect unison when it's time to go fishing. It doesn't matter if you're fishing for leisure or striving to make the winners circle in a tournament, he'll give you the best chance in hooking that trophy fish or filling the box with meat!
He's passionate about fishing. He creates a fishing experience that's top notch above the rest. Some have even called his fishing charters - "A fishing adventure of a lifetime!"
His emphasis on your enjoyment combined with his offshore fishing knowledge makes him the premier and most sought-after offshore fishing Captain the Virginia Beach fishing fleet has to offer.
He's highly experienced when it comes to trolling, live baiting and bottom fishing. From inshore fishing, to offshore big game fishing...he knows which techniques to use and when to use it to ensure you the best possible chance of hooking the big one!
Bottom line (or more like...FISH ON THE LINE), Capt. Randy is legit! His track record speaks for itself!
He's also the owner and operator of a whitetail deer hunting lodge in Saskatchewan, Canada Safari's North Outfitters. If you like to hunt, then check out his website, http://safarisnorthoutfitters.com, to see some GIANT NORTHERN whitetail deer! Whether you're wanting to land a trophy buck or a trophy fish...Capt. Randy is your man!
*NOTE: Whether you're wanting to land that huge offshore fish or getting a shot at that GIANT Saskatchewan whitetail buck you've been dreaming of...you'll need to BOOK YOUR FISHING TRIP IN ADVANCE because there's only ONE boat and his whitetail deer hunts usually sell out 1-2 years in advance!
Bottom line, whether Capt. Randy is taking you fishing or on a hunt, you're guaranteed he's going to do his ABSOLUTE BEST to make your next fishing or hunting trip, an ADVENTURE OF A LIFETIME!